It's evening, and my brother got back home, well not before calling me. Yes he was going home with his new iPad on his back!
I arghed al lot but well ok I can manage, I know I'm going to have one, and I think my first book is not ready yet, so who am I that cannot wait. But when he really got home, attached the ipad at iTunes, he just called me again! He saw my first book on it!!! Santa and the Chimney, it was well yes, for Christmas time, so I completely forgot...I was thinking at the summer, sun, beach and well my new book that talk about a boy and Yes summer beach and new friends. Let's go back to Santa! My brother got it for the iPhone, Is my brother, he had to do it, so when iTunes saw the iPad, said Hei u cannot go without it !
hahahhahah
I'm so Happy I did not know it worked!!!! So I'm thinking...Are Dinoshake and Mooshake also working? I made those 3 for an Australian company called Mogeneration, and I've loved doing them 'cause I love gagdet, yes, but also because I think books can go everywhere and my job is illustrate so where it brings me I draw. This are from Dinoshake, I have 10 dinos going into sports. The game is for young children. The dino is divided in 3 pieces and the kid has to match the 3 right dino pieces, when it happens there goes the cheering crowd!
My method is really simple, I think we nearly all start the same. With a big Huge Hot coffe, a pencil and some paper. This is one step I need to come out with the main character. Then it dipends on the style where I go from this, but in this case I go rebuild with my computer and my old nice and gentle A5 wacom tablet. PS. If someone know where to buy the point of the pen, and much more how to change it...well please write me 2 lines. This is not the pencil sketch, but here I was at the next step I knew all details of it, now I had to choose what to let him do. This never came into the game..but I still love him so I thought why not and attach it here. Next this I have other 2 I love a lot and well yes this are in the game. Like there is also a coloring book of all the dinos that it can be downloaded from the main site ShakeAndPlay!!!!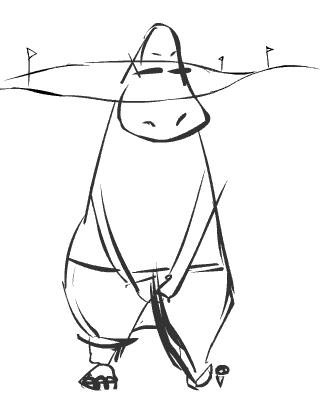 Now Let's see, I have also Mooshake, yes it was the first, didn't thought of whatwould come out of it, I'm still jumping as it can be seen here in my sketch.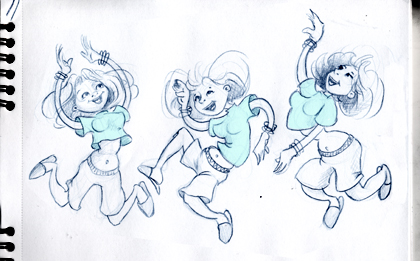 MooShake had only one moving animal, and they where not Dinos but normal animals, like a cat, a frog, o maybe a
karate zebra. But the Animated one and my loved one is the cow! Yes! She is playing Hula Hoop and she likes it.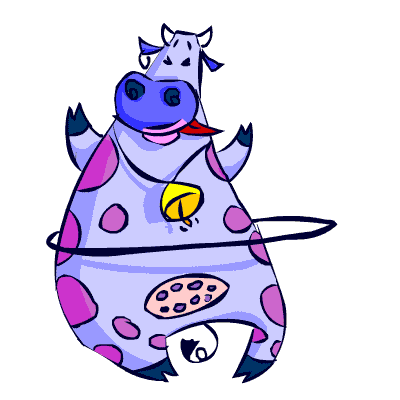 Meanwhile I did worked on printed books and well is not to talk about it now, Oh well ok I had coming out I think a month ago Do Pirate go to School. It is in my other style and I love it...Now I-m working on a Parrot. A great an d really colorful parrot.
But Let"s go back to animated books. I had one failed project, I will not stay here telling why it went wrong but I have to tell it, I didn't get it too well. I loved those Gorilas, like the one attached here.
Now is may, another book is in progress. Is called To The Rescue and is produced by iBookKids for the iPad. I've illustrated and written the story, and made the small animation in it. Is a new interactive and animated book, kid can hear it and play with it, and is also available in a lot of languages.

Chicco - To The Rescue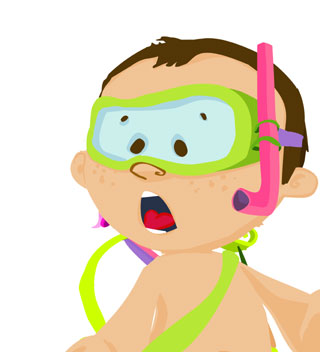 Learning the value of friendship in a day spent at the sea. Chicco is playing on the beach where he meets new friends and new enemies, but everything can be solved with a big heart and an open mind. written and illustrated by Manuela Pentangelo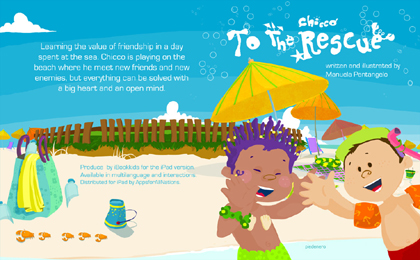 Produce by iBookkids for the iPad version. Available in multilanguage and interactions. Distributed for iPad by Apps of All Nations LLC. It will be available also in printed version and maybe a coloring book! You never know, is summer time!!!
This will be the cover of the printed version.
So finally, I can't wait to have my own ipad andmake videos of my books and applications.
ciao